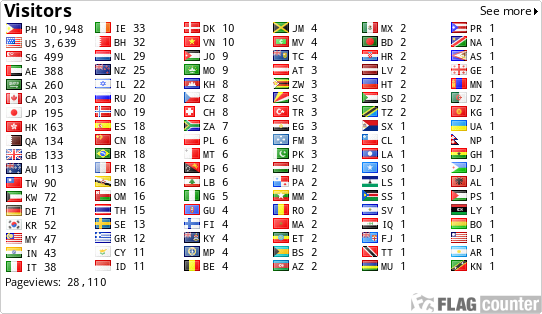 Welcome To General Trias, Cavite...
General Trias, an inland municipality of Cavite, staddles the northeastern part of the province. It is 35 kilometers southwest of Manila. Eight municipalities and one city surround it. Noveleta and Rosario bound General Trias on the north while Silang and Amadeo share the southern border of the municipality. Imus lies on its east while Trece Martires City and Tanza share it western limits.
Land Area: 117.68 sq km.
No. of Barangays: 33
Income Class: 1st Class
Population: 218,387 (2007)
Population Density: 1,856 persons/sq. km.
Growth Rate: 10.76% per annum
General Trias is considered is on the new frontiers of growth and development. It is popular with its dairy products such as the Kesong Puti (white cheese) which is the Filipino version of mozzarella cheese.
The municipality of General Trias registered a total population of 107,691 in 2000. From 66,837 in 1995, it increased by around 61.12% over a 5-year period. The present annual growth rate is 10% as compared to the past census year, with only 4.80% indicating that it has more than doubled in five (5) years. The population is distributed in its thirty three (33) barangays and is considered to be 5.52 % of the total provincial population of 2,063,161. It ranks 7th as to population size compared to the three (3) cities and nineteen (19) municipalities comprising the province.
The increasing growth rate is brought about by heavy in-migration as a result of expanding industrial activities and the booming residential and commercial subdivisions due to rapid urban development. There are numerous local factories present.
Industrialization and rapid urban development are the main aspects in the formation of more businesses in General Trias. The development of industrial parks in the municipality brought about a shift from agriculture to industry and real estate development which pave way to factories or industrial firms to operate in the municipality such as Gateway Business Park and New Cavity Industrial City.
For more info about General Trias where you will soon live, click here...
We have the following available subdivisions:
https://www.facebook.com/vinsmarthouse/lancaster gen tri
We have
ready for occupancy
house units at affordable prices, 1-storey, townhouse units, affordable rowhouse units, single attached, and single detached house units. Choose one that suits your budget, house style and house size that accommodates your family. Please see house pictures below, click on it for more info.